Traffic rules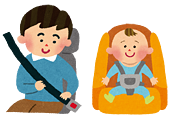 A seat belt
According to the Road Traffic Act, each person in a motor vehicle must wear a seat belt. Whether you are the driver or a passenger, be sure to wear your seat belt.
A child seat must be attached and used for children under six years of age.

Follow the safety speed
Speed limits are assigned to all roads, including general roads and toll roads. Please observe the speed limit and drive safely. Also, be aware that some roads are monitored by automated speed monitoring systems. Be careful not to speed!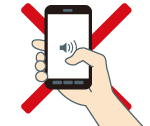 Only use the mobile telephone in Service (Parking) area.
Use of a handheld cell or smart phone while driving is prohibited by law.
Left-hand traffic!
In Japan, vehicles are driven on the left-hand side of the road.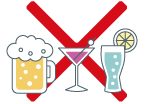 Prohibition of Drinking and Driving
Driving under the influence of alcohol is prohibited by law.
The highway is "one way"
Even you miss your interchange, never try to reverse or turn. Reverse driving will lead to a serious accident.
On the highway, never get out of the car
Even you need to stop on the road or the road border due to accident or break down of vehicle, never jump off the car in haste. Please follow the instructions below.
Please perform a signal (hazard lamp lighting, ignite the smoke maker, stop indication board) to the car behind and go outside the guard rail.
It is possible that the car behind collided with yours, to wait inside or stay in front or at the back of the car is very dangerous.
When you get off, be careful of the traffic.
When you find an accident or any broken vehicle during driving, slow down and confirm if there is any person nearby. (Never stop or get off to offer help because it is very dangerous).