Car accident
You never think that you will run into trouble during your vacation but that is actually what you should be concerned about most. If you know how to handle emergencies, you will be anxiety-free and able to act without panicking in extreme situations.
I don't understand Japanese. What should I do?
First, ask a Japanese person who is on the scene for help. He/she should be able to explain the situation at the scene to the police and fire department personnel. If there is no one nearby, call the police and tell them the "situation" and "location." Stay calm and check the car navigation system for the location.
What if I had an accident?
If you had a major accident in which you are seriously injured, you will have no choice but to wait for someone to help. The question is what you should do when you hit another car or hurt someone. It is important to deal with the situation calmly. First of all, it is essential to ensure that a second accident will not occur. You should learn the following procedure:
What to do when an accident happens
1. Make the area as safe as possible

Look around you and make an assessment as to what actions are necessary to make the area safe, such as moving your car so that it is not blocking traffic, moving any injured person(s) to a safe location, and so on.

2. Dial 119 to call an ambulance

Call an ambulance if someone is injured. It may be necessary to give the injured person first aid in order to stop bleeding while waiting for an ambulance.

3. Dial 110 to call the police and follow their instructions

Call the police and give a detailed description of the accident. Be sure to contact the police as you will need an accident report for compensation at a later date.

4. Contact your car rental company

Finally, call your car rental company and follow their instructions. The car rental company will make all arrangements including contacting the insurance company, moving your car, and other related matters.
Be sure to report it no matter how small the accident is
Road accidents – even if it is self-inflicted accident and the car is drivable must be reported to the police and also the car rental company.
Do not negotiate a settlement on the scene.
In the case of a minor accident, the other party may offer to settle the matter with cash on the spot. However, you will be at a disadvantage if you are unfamiliar with the rules and regulations involved. It is safer to decline his/her offer and follow the instructions of the car rental company.
Information you should give when calling 110 and 119
See Page 46 for "Phrases to use (by pointing) in Emergency Situations". "There was an accident and 'x' number of people were injured. The location is …. (give location) my name is …. My phone number is …., and cell phone number is ……..
Be sure to identify the other party
Give the other party your information and obtain the other party's information. Additionally, if you have a camera, it would be a good idea to take photos of the scene.
Your name, address and phone numbers and those of the other party
Your driver's license number and that of the other party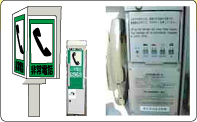 On expressways, use the "Emergency Telephone!"
If you have an accident or if your car breaks down on an expressway, make the area safe by parking your car on the shoulder and turning on your emergency blinkers or use a triangle reflector to alert other vehicles of the emergency situation, then contact the road authorities. If you use the "Emergency Telephone" instead of your cell phone, your present location will automatically be notified to the rescue crew. "Emergency Telephones" are installed every 1 km so you will be able to find one within 500 m, either ahead of you or behind.